Nguyen Ngoc Anh
Current Status: Pre-trial detention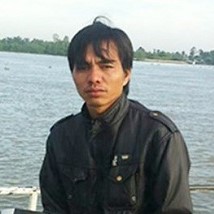 Other Names: Nguyễn Ngọc Ánh
Date of Birth: October 12, 1980
Gender: M
Ethnicity: Kinh
Occupation: Engineer
Current Prison: Ben Tre Province Police Temporary Detention Center, Ben Tre Province
Areas of Activism:
Anti-corruption
Environment
Freedom of expression
Human rights
Sovereignty
November 2018:
On November 19, Nguyen Ngoc Anh's wife was not allowed to meet with Anh in prison but was said to send a letter to update him on news. Police have been questioning her on various subjects since his detention, including an alleged debt.
Details - Background, History of Activism, Family Situation.
Nguyen Ngoc Anh, born in Hanoi, majored in aquaculture at Nha Trang University. After moving to Ben Tre Province ten years ago, his family began to grow shrimp in ponds in Binh Hoa village, Binh Dai commune, Dinh Dai District.
On his Facebook account, he sometimes shares and comments on news such as the increasing of gasoline prices. He also appeared in some livestreams, which were initiated by Facebooker Hoang Ngoc Dieu, to debate about emerging social issues.
Arrest 1 - Arrested August 30, 2018.
Nguyen Thi Chau, Mr. Anh's wife, said that he was detained on August 30 at around 11:00 am. At that time, he was on the way to meet the communal police in accordance with the summons order released a day before.
Police then came to his house to search and confiscated his laptop, phone, several USBs, and documents. In addition, many police in plainclothes also surrounded his house to observe his wife's activities after his arrest.
On September 4, he was prosecuted under Article 117 of the 2015 Penal Code for "Making, storing, spreading information, materials, items for the purpose of opposing the State of Socialist Republic of Vietnam."
Thanh Nien newspaper, an internal newspaper, reported that from March 31 to August 14, Mr. Anh created two different Facebook account to share, upload, and livestream items with anti-government and anti-party content. Through those videos, Mr. Anh "propagated fabricated information, distorted, defamed the people's administration, which resulted in suspicious, panic and anxious psychology among the people." He was also accused of inciting people to protest on June 10 and preparing for another protest on September 2, a national day.
However, his wife pointed out the real reasons of his arrest were actually because he raised his voice on national issues such as bad governmental management on social issues; violations of human rights, especially freedom of expression; China's aggression on the South China Sea dispute; corruption; and environmental pollution.
During the initial investigation, he will be temporarily detained for four months. During this time, his family will only be able to supply him with food and other items.
On September 4, to meet Anh's requirement for representation, lawyer Dang Dinh Manh came to the Ben Tre Provincial Security Investigation Agency to carry out the procedure for defense registration for Mr. Anh. Mr. Anh's request for a lawyer was also confirmed by security officials on the same day.
However, on September 6, the Ben Tre Security Investigation Agency suddenly sent out an announcement about Anh's alleged withdrawal of the registration of his lawyer.
This news was shared by his lawyer, Manh Dang. He also shared a copy of handwriting supposedly written by Anh on September 4 saying that he wanted to withdraw the request to hire a lawyer because his family's finances were in trouble and that he could self-study to defend himself.
March 2019:
On March 11, 2019, Nguyen Ngoc Anh's wife went to send him items at his detention center. However, a detention supervisor brought her to the main police station, which she first thought meant that they had completed their investigation into Anh. However, she was questioned for an hour and a half by four security officers while serving her son breakfast. All questions were about her friends on Facebook as well as her conversations. Police asked her to sign documents after the interrogation, but she refused.
Profile last updated: 2019-03-18 02:42:38