Huynh Truong Ca
Current Status: Pre-trial detention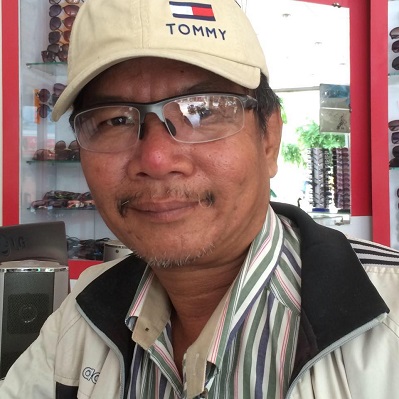 Other Names: Huỳnh Trương Ca, Thằng Nhà Quê
Date of Birth: 1971
Gender: M
Ethnicity: Kinh
Occupation: Freelancer
Current Prison: Temporary Detention Center, Dong Thap Province
Areas of Activism:
Environment
Freedom of expression
Human rights
Sovereignty
Known Affiliations:
Details - Background, History of Activism.
Prior to arrest, Ca lived in Dong Thap Province.
Huynh Truong Ca is a co-founder of Hien Phap (Constitution) group, established on June 16, 2017 to promote people's understanding of their human rights in the 2013 Constitution.
Huynh Truong Ca and other members planned to call for a peaceful demonstration on September 4, to raise their voice on social issues, including human rights violations, corruption, territorial disputes, and environmental pollution.
In addition, he and his colleagues in the Hien Phap group were said to play key roles in the demonstrations on June 10, protesting against two bills on Special Economic Zones and Cybersecurity. Therefore, on June 16, he was summoned by police of Hong Ngu District, Dong Thap Province.
On his Facebook account, namely Huỳnh Trương Ca, he usually live-streams about social issues.
Arrest 1 - Arrested September 4, 2018. Sentenced to 5 years 6 months in prison.
September 4, 2018
December 28, 2018
5 years 6 months in prison
Defense Counsels: None
On September 4, Huynh Truong Ca was arrested on the way from Tien Giang to Ho Chi Minh City, where he and other Hien Phap members had called for a demonstration.
On September 14, the Investigation Agency of Dong Thap Province prosecuted him on the allegation of "Making, storing, spreading information, materials, items for the purpose of opposing the State of Socialist Republic of Vietnam" under Article 117 of the 2015 Penal Code. They accused him of using Facebook to share, post, and live-stream anti-state content.
On November 14, the investigation process was completed. Police of Dong Thap sent this result to the province's People's Procuracy, proposing to prosecute him under the charge of Article 117 of the 2015 Penal Code, which carries a sentence of seven to 12 years.
December 2018:
On December 28, 2018, Huynh Truong Ca was tried by the People's Court of Dong Thap Province and sentenced to five years and six months in prison. Ca represented himself at trial and maintained his innocence, saying he acted out of patriotism. Family was permitted at the trial, but their electronics were banned in the courtroom.
Profile last updated: 2019-01-07 04:17:10