Hoang Duc Binh
Current Status: Sentenced to prison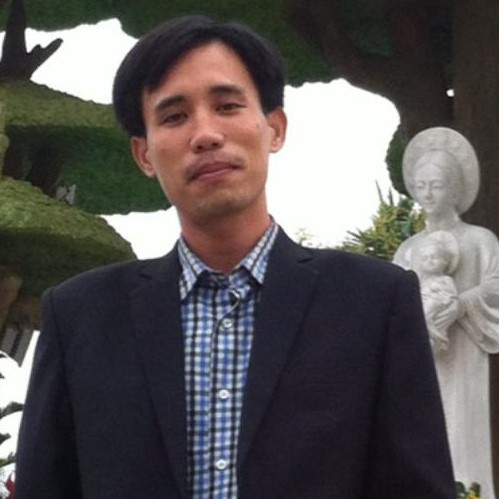 Other Names: Hoàng Đức Bình
Date of Birth: February 10, 1983
Gender: M
Ethnicity: Kinh
Current Prison: An Diem prison, Dai Loc district, Quang Nam province
Areas of Activism:
Democracy
Environment
Human rights
Labor rights
Maritime sovereignty
Known Affiliations:
No-U Saigon
Viet Labour Movement
September 2018:
Hoang Duc Binh is suffering from ear pain in prison, he told his brother at a recent visit. He says the pain stems from his assault when he was arrested in May 2017. Binh has been facing extremely difficult conditions in prison, housed in a cell with death row prisoners and denied adequate nutrition.
Details - History of Activism, Family Situation.
Binh is the vice president of the independent Viet Labour Movement and a member of "No-U Saigon," a soccer group that protests China's sweeping claims on the South China Sea. He is also a well-known blogger who covered news on the environmental disaster caused by Formosa. He actively worked with the Catholic community in Nghe An province to help them obtain compensations for the damages caused by the Formosa environmental disaster.
State-owned newspaper accused him of "often posting and sharing on his personal Facebook account information and materials that propagandize against the regime and advocate for pluralism and multi-parties. Taking advantage of the environmental incident in the central coast, as the vice president of 'Viet Labor Movement,' Hoang Duc Binh had pushed for and formed a 'Union for Fishermen in the Central Region' [Hiep hoi ngu dan mien Trung], with the intention to build a peripheral organization, to gather forces and incite Catholic people and fishermen from the Central region to participate in his organization; searching for a 'nuclear factor' to incite protests and disrupt security and order." (translation by HRW)
Watch an interview (in Vietnamese, with English subtitles) with Hoang Duc Binh, where he explains in his own words why he was inspired to begin his activism.
Arrest 1 - Arrested May 15, 2017. Sentenced to 14 years in prison. Expected Release is May 15, 2031.
May 15, 2017
February 6, 2018
14 years in prison
Art. 330 (2015 Code)
Art. 331 (2015 Code)
May 15, 2031
Defense Counsels: Ha Huy Son
Hoang Duc Binh was arrested on May 15, 2017, in Nghe An province when he escorted Catholic priest Nguyen Dinh Thuc from the Song Ngoc parish in Dien Chau district to Vinh city. The police stopped their car in Dien Chau district's center and violently removed Binh from the car. According to the arrest order, Binh was charged with "resisting persons in the performance of their official duties" under Article 257 and "Abusing democratic freedoms to infringe upon the interests of the State" under Article 258 of the 1999 Criminal Code. In August 2017, authorities added another charge against Binh, Article 143 ("destroying or deliberately damaging property").
June 2017
Binh was transferred from Nghe An province's temporary detention center to the detention center B14 in Hanoi. His family only found out about the transfer when they went to Nghe An province on June 15 to send him supplies.
November 2017:
The authorities extended Binh's pre-trial detention and investigation period. Binh remained under investigation until January 6, 2018.
January 2018:
Binh faced two charges - "resisting persons in the performance of their official duties," under Article 330, and "Abusing democratic freedoms to infringe upon the interests of the State," under Article 331, of the new 2015 Criminal Code.
He and Nguyen Nam Phong were supposed to face trial on January 25, but the trial was rescheduled just before it was about to begin.
February 2018:
Hoang Duc Binh was sentenced to 14 years in prison; Nguyen Nam Phong was sentenced to two years. Binh was particularly targeted for livestreaming a march against Taiwanese company Formosa, whose pollution caused a massive environmental disaster that began in April 2016. Binh received one of the harshest prison terms for a known prisoner at this time. At trial, he affirmed that he made comments about police brutality during the livestream, but he also maintained that this was not a criminal act because it was the truth.
March 2018:
Hoang Duc Binh has been unable to meet with his family since being imprisoned nearly a year ago. They feared he was in poor health.
April 2018:
Environmental activist Hoang Duc Binh appealed his 14-year sentence on April 24, but the appeal was denied, and his sentence was upheld by a court in Nghe An province.
January 2018:
Hoang Duc Binh told Nguoi Viet that he was beaten in prison.
Lawyer Ha Huy Son met with Binh on January 24, at Nghi Kim Detention Center in Nghe An province and reported that Binh was in good spirits and his health was normal, although he looked thinner and still had back pain.
July 2018:
Hoang Duc Binh was facing extremely difficult conditions in prison. Binh was housed in a cell with death row prisoners who assaulted and threatened him. Binh was forced to use his meager 48.00 VND (2 USD) daily to buy food for all prisoners in his cell. His nutrition has been very poor, eating only rice with some fish sauce or soy sauce for long periods of time. These physical conditions have caused his health to decline immensely. In protest of his mistreatment, Binh had recently undertaken a hunger strike.
Authorities had recently transferred him to a prison far from home, and his family was not notified in advance of the move. Binh is now in An Diem prison, Quang Nam province, in central Vietnam, over 500 km from his home province of Nghe An.
January 2018:
Human Rights Watch called for Binh and Phong's releases ahead of the scheduled trial. Brad Adams, Asia Director, stated: "There is no sign that Vietnam is slowing down its intensive crackdown on rights activists in the last 14 month."
February 2018:
Heather Nauert, Spokesperson for the US Department of State, released a
statement
speaking out against the convictions of Binh and Phong, stating: "The United States is deeply troubled that a Vietnamese court has convicted and sentenced peaceful labor and environmental activist Hoang Duc Binh and Nguyen Nam Phong to fourteen years and two years in prison, respectively, under vague articles of the Penal code."
On February 23, UN human rights experts
called
on the government of Vietnam to release individuals jailed for protesting the Formosa chemical spill.
Amnesty International released a new
Urgent Action
for Hoang Duc Binh, calling for Binh's release from prison and protection from mistreatment thereafter.
According to a press release from the Vietnam Human Rights Network on November 30, they will award three
Human Rights Awards in 2018
to the following activists: Hoang Duc Binh,
Tran Thi Nga
, and
Pham Doan Trang
. Binh is an environmental activist serving 14 years in prison, Nga is a land and labor rights activist serving nine years, and Trang is a dissident writer who promotes political participation and human rights in Vietnam.
Profile last updated: 2018-12-10 04:03:18