Can Thi Theu
Current Status: Released - at risk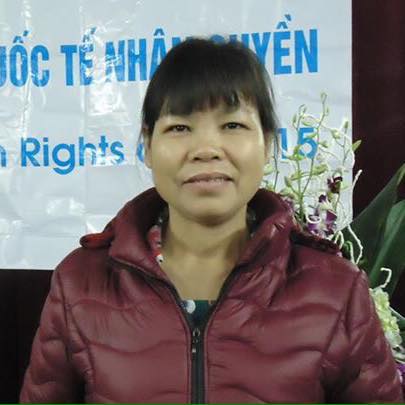 Other Names: Cấn Thị Thêu
Date of Birth: August 14, 1962
Gender: F
Ethnicity: Kinh
Current Prison: Gia Trung prison, Gia Lai province
Details - Background, History of Activism, Family Situation.
Can Thi Theu is from Duong Noi, outside of Hanoi.
Theu is a leading activist against land grabs in Duong Noi, in which fertile land is confiscated by the government, usually for industrial use and without proper compensation. This issue has been particularly problematic as Vietnam's economy continues to grow. Theu and her family have been victims on forced eviction and land confiscation themselves. Theu has also been a vocal supporter of other political prisoners, such as Nguyen Van Dai, Le Thu Ha, and Tran Huynh Duy Thuc, staging a hunger strike for the latter. She also participated in protests after the Formosa environmental disaster began in April 2016.
The 88 Project's archives
Defend the Defenders's archives
Sentencing of Land Rights Defender, Can Thi Theu, Front Line Defenders (multiple entries)
Can Thi Theu's Letter from Gia Trung Prison, 20 December 2016, The 88 Project, January 25, 2017
Free Vietnam's Political Prisoners!, Human Rights Watch, November 3, 2017
Vietnam upholds 20-month jail term for land grab protester, Reuters, November 30, 2016
Can Thi Theu's story and the context of land confiscation in Vietnam are told in this bilingual video produced by artist Kim Chi, Hélèna Lee, and friends.
Arrest 1 - Arrested April 25, 2014. Sentenced to 1 year 3 months in prison. Released July 27, 2015.
April 25, 2014
August 19, 2014
1 year 3 months in prison
Art. 104 (1999 Code)
Art. 257 (1999 Code)
July 27, 2015
Arrest 2 - Arrested June 11, 2016. Sentenced to 1 year 8 months in prison. Released February 10, 2018.
June 11, 2016
September 20, 2016
1 year 8 months in prison
February 10, 2018
Defense Counsels: Ha Huy Son; Vo An Don; Nguyen Kha Thanh; Le Van Luan
First arrest:
Can Thi Theu was arrested in 2014 under Article 257 ("activities against public officials"). She was sentenced to 15 months in prison. The arrest was allegedly for leading a protest in Duong Noi when authorities came to conficate community land.
Latest arrest:
Can Thi Theu was arrested for a second time on June 10, 2016, for leading a nonviolent demonstration of people seeking government accountability for land grabs. She was sentenced to 20 months in prison in September 2016 by the People's Court of Dong Da district. Supporters were systematically blocked from attending her trial and some were assaulted. The sentence was upheld on appeal on November 30, 2016. Shortly thereafter, Theu was transferred from Hoa Lo prison in Hanoi to Gia Trung prison in Gia Lai, 1,000 km from her home. The transfer was interpreted by some as a way to distance Theu from her network of support. She wrote a letter to the community at the time of the transfer. Theu has reported back on severe mistreatment of other prisoners while herself imprisoned.
November 2017:
The UN Working Group on Arbitrary Detention released two
opinions
deeming the arrests and detentions of land rights activist Can Thi Theu and blogger Tran Thi Nga as arbitrary. The opinions called for swift remedies of the alleged violations of international law in their cases. The opinions condemned the lack of verifiable information about Theu's health treatment in prison.
Can Thi Theu upon release. Source: Nguyen Lan Thang
Can Thi Theu was released from prison on February 10, 2018 and returned to her home in Duong Noi, Ha Dong, Ha Noi, where she was warmly welcomed by family, friends, and fellow villagers. Her welcoming home quickly became a demonstration of the determination of the villagers to keep their land from being seized by the government, as Can Thi Theu
condemned
the illegal forced eviction and vowed to continue her fight, and as her supporters brought flowers and a banner saying "Duong Noi people would die to keep their land" (see picture above).
Theu went on hunger strike for 13 days following her arrest in 2016; her health faltered as a result. She was reported to be in poor health condition while in prison.
June 2016:
Front Line Defenders released an Urgent Appeal on Theu's behalf.
September 2016:
Human Rights Watch called for Theu's release from prison ahead of her original trial.
October 2016:
Four UN Special Rapporteurs sent a letter to the Vietnamese authorities asking for clarifying information about Can Thi Theu's pre-arrest harassment, arrest, detention, and deprivation of a lawyer, and how those actions fit into established international human rights agreements. They had previously sent a similar letter in June 2016.
Profile last updated: 2019-03-08 03:10:40