Nguyen Van Dai
Current Status: Pre-trial detention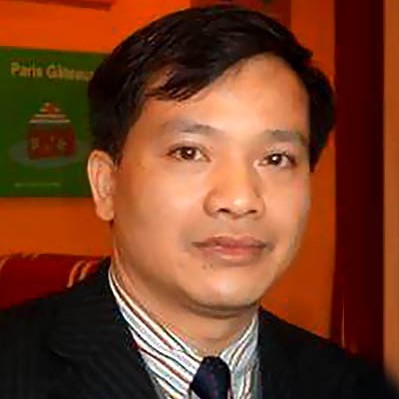 Other Names: Nguyễn Văn Đài
Date of Birth: May 6, 1969
Gender: M
Religion: Christian (Protestant)
Ethnicity: Kinh
Occupation: Lawyer
Latest Prison: B14 Detention Center, Hanoi
Areas of Activism:
Known Affiliations:
Bloc 8406
Brotherhood for Democracy
Vietnam Human Rights Centre
Arrest History
Arrest 1
March 5, 2007
May 11, 2007
4 years in prison
March 5, 2011
Defense Counsels: Tran Lam
Arrest 2
December 16, 2015
Pending
Art. 79
Art. 88
Details
January 2018:
Dai's wife visited him in prison and reported that he has a strong resolve but is still in poor health. Read the "Physical Health History" section below for more details.
December 2017:
Nguyen Van Dai has spent almost two years in pre-trial detention and faces health issues from an injury sustained from an attack in December 2015 and from hepatitis B.
Dai is from Hung Yen province, near Hanoi. He is a pro-democracy human rights lawyer who has advocated for the legal rights of vulnerable populations in Vietnam.
Dai founded the Committee for Human Rights in Viet Nam (now Vietnam Human Rights Centre) in 2006. He also co-founded the Brotherhood for Democracy in 2013 and is a signatory to Bloc 8406. In April 2017, Dai was awarded the 2017 Human Rights prize from the German Association of Judges.
First arrest:
Dai was arrested in 2007 under Article 88 for "propaganda against the state," and was sentenced to five years in prison (reduced to four years on appeal) and four years probation.
Latest arrest:
Dai was arrested while attempting to meet with EU delegates for the annual EU-Vietnam Human Rights Dialogue in 2015. He was arrested along with his assistant, Le Thu Ha. He has been held in incommunicado pre-trial detention since his arrest, and his pre-trial investigation period has been extended several times, potentially prompting Dai to stage a hunger strike. On July 30, 2017, Dai was charged under Article 79 for subversion, making it unclear if his initial charge under Article 88 still stands. Dissident journalist Pham Doan Trang shared on her page that he and Nguyen Huu Vinh (aka Anh Ba Sam) have refused to be exiled in order to be freed from prison. His detention has been deemed arbitrary by the UN Working Group on Arbitrary Detention.
Prior to arrest: Suffering from hepatistis B
December 2015:
Just days before his arrest, on December 6, 2015, Dai and several colleagues were attacked after delivering a human rights workshop. He still suffers from injuries sustained in that attack.
On January 29, Vu Minh Khanh, imprisoned human rights lawyer Nguyen Van Dai's wife, was able to briefly visit Dai in prison and speak with him through a glass screen. She
reported
back to Radio Free Asia that his resolve is strong, but his health is suffering in prison and he has not been allowed to secure his own lawyer. "The prison is designed in an evil way to torture the prisoners. It is very cold in the winter and very hot in the summer. He always has to suffer from such extremes. Besides that, the prison is very close to the highway, so that every night he has a hard time trying to sleep because the passing trucks make the whole building rumble and shake. They also do things like cut off the water to add additional indirect distress. My husband also suffers from constant intestinal pain, and I am worried because his skin seems to be getting darker and darker."
May 2017:
Dai has only met with his wife twice since his arrest, and he has not been allowed to meet with his lawyer.
Contact us if you can assist.
October 2016:
73 parliament members from 14 countries sent a letter to Vietnam's Prime Minister calling for Nguyen Van Dai and Le Thu Ha's release.
August 2017:
Activists honored Dai on his 600th day imprisoned on August 7 by staging protests of solidarity.
Dai's case has been taken on by several international human rights organizations and members of US and European governmental bodies.
Profile last updated: 2018-02-04 19:25:03