Luu Van Vinh
Current Status: Sentenced to prison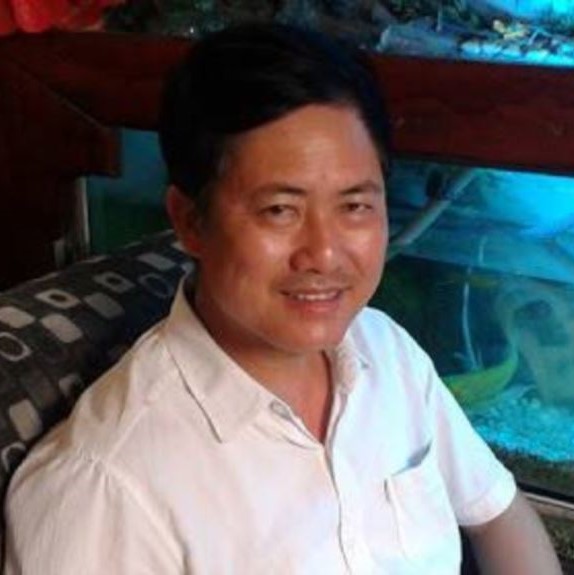 Other Names: Lưu Văn Vịnh
Date of Birth: 1967
Gender: M
Ethnicity: Kinh
Occupation: Construction contractor
Current Prison: Chi Hoa prison, Ho Chi Minh city
Areas of Activism:
Democracy
Land rights
Sovereignty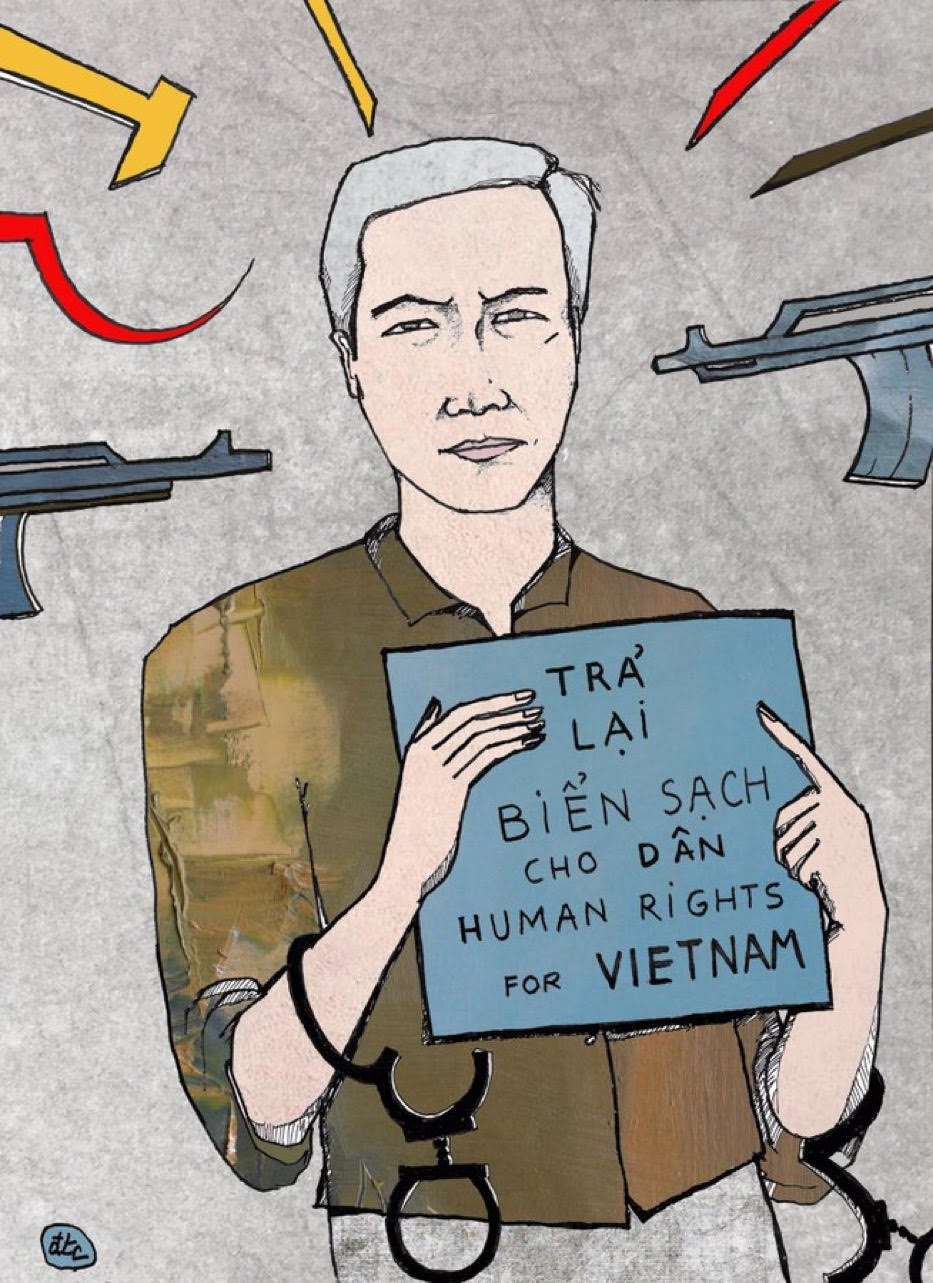 Luu Van Vinh. Artwork by Dinh Truong Chinh for The 88 Project
January 2019:
At 9:00 am on January 21, the appeal trial against Luu Van Vinh (sentenced to 15 years) and his co-defendants Nguyen Quoc Hoan (13 years), Nguyen Van Duc Do (11 years), Tu Cong Nghia (10 years), and Phan Van Trung (also known as Thich Nhat Hue, 8 years) began. But since one defense counsel, who was appointed by the authorities for Phan Trung, did not show up, the trial was postponed. No new date has been announced.
Details - Background, History of Activism, Family Situation.
Vinh is a handyman from Hai Duong province, living in Ho Chi Minh City at the time of his arrest.
Vinh and his friend, Nguyen Van Duc Do, were both arrested for their roles in protesting Chinese activity in the South China Sea and the toxic Formosa spill that began in April 2016. Vinh founded a group called the Coalition for Self-Determination for Vietnamese People.
The 88 Project's archives
Defend the Defenders's archives
U.N. Human Rights Body Wants Vietnam to Free Dissidents, Radio Free Asia, November 22, 2016
Viet Nam: Crackdown on Human Rights Amidst Formosa Related Activism, Amnesty International, November 8, 2016
Viet Nam: Activists Held Incommunicado at Risk of Torture, Amnesty Internatonal, November 22, 2016
Vietnam jails five people accused of attempting to overthrow state, Channel News Asia, October 5, 2018
Arrest 1 - Arrested November 6, 2016. Sentenced to 15 years in prison. Expected Release is November 6, 2031.
November 6, 2016
October 5, 2018
15 years in prison
Art. 331 (2015 Code)
Art. 79 (1999 Code)
November 6, 2031
Defense Counsels: Dang Dinh Manh; Nguyen Van Mieng
Vinh was arrested on November 6, 2016, after police came into his home, beat him, and took him away without presenting official documents. Nguyen Van Duc Do was also arrested after meeting with Vinh.
March 2018:
The People's Court of Ho Chi Minh City returned Luu Van Vinh's case to the authorities for further investigation, refusing to prosecute him at that time.
October 2018: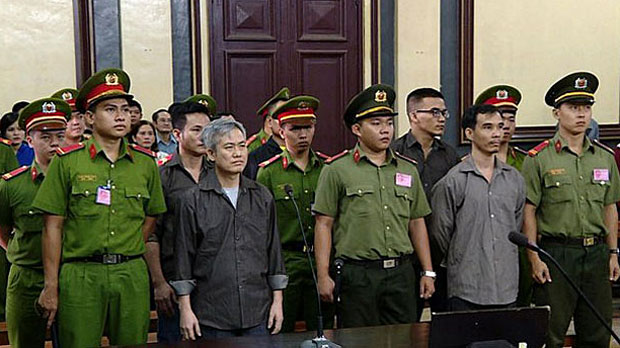 Luu Van Vinh (L) and co-defendants at trial on October 5, Source: AFP
Luu Van Vinh was sentenced to 15 years in prison on October 5, almost two years after his initial arrest.
His wife, Le Thi Thap, was not allowed to attend the public trial. Only after the help of two lawyers and a secretary, was she able to watch her husband's trial through a screen outside the room. However, the film and the sound failed sometimes, which made it difficult to follow the trial.
When the court started, Luu Vinh raised his hand up and said that he did not agree with this trial and questioned why his relatives weren't present if it was a public trial. However, the judge interrupted and did not allow him to speak further.
During the court, the representatives of Procuracy kept emphasizing the accusations towards Vinh that he "took advantage of the development of the information, accessed the social media to read anti-government articles then posted on Facebook those information, which was harmful to the national security." They also asked others defendants many pointed questions, which were to blame Vinh for tempting them to commit the crimes alleged in thier indictments. However, none of the defendants agreed with the accusation. Only the prosecutor and judge could speak. Vinh and others were interrupted even when they were supposed to answer the questions of the representatives of the Procuracy. The judge ignored the defense from the lawyers and sentenced Vinh and the others heavily.
Luu Van Vinh was sentenced to 15 years in prison. His co-defendants were also sentenced to prison terms: Nguyen Quoc Hoan, 13 years; Nguyen Van Duc Do, 11 years; Tu Cong Nghia, 10 years; and Phan Van Trung, 8 years.
December 2018:
On December 19, Le Thi Thap visited her husband, Luu Van Vinh, at Chi Hoa Detention Center. Vinh said that his appeal petition, which he sent on October 10, had not yet been resolved.
November 2017:
After a November 2017 visit, his wife reported that Vinh's health was worsening; he looked slim and had poor skin and weakened vision because glasses were prohibited.
December 2017:
Luu Van Vinh has faced nearly constant
death threats
from his cellmate, but authorities have denied his request for a cell transfer; they have also denied Vinh glasses sent from his family.
November 2016:
Amnesty International released an Urgent Action regarding Vinh's "risk of torture and other ill treatment" while detained.
May 2018:
The UN Working Group on Arbitrary Detention (WGAD) opined that the detention of pro-democracy activist Luu Van Vinh by authorities of Ho Chi Minh City is arbitrary and demanded his release.
October 2018:
"Thirteen people have been placed behind bars in the past five weeks for 'crimes' such as blogging, using Facebook and other peaceful pursuits," Amnesty International said in response to the October 5 trial. Human Rights Watch called for the release of the five co-defendants as well.
Profile last updated: 2019-02-02 01:00:56