Nguyen Van Tuc
Current Status: Sentenced to prison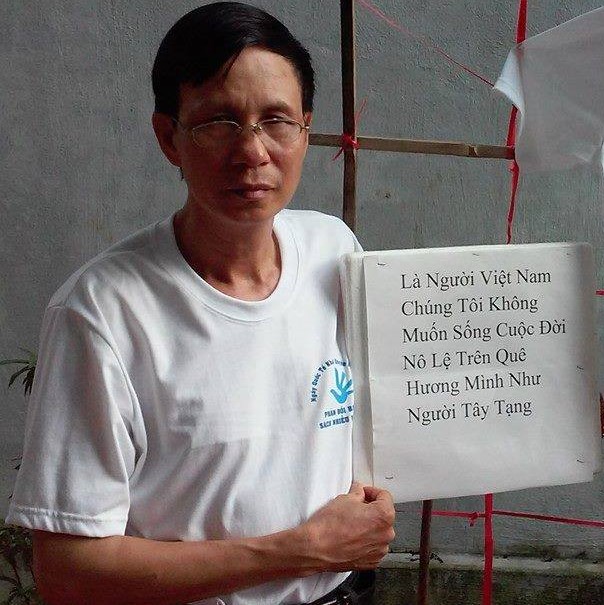 Other Names: Nguyễn Văn Túc
Date of Birth: May 28, 1964
Gender: M
Religion: Buddhist
Ethnicity: Kinh
Current Prison: Prison No. 6, Nghe An province
Areas of Activism:
Democracy
Human rights
Land rights
Sovereignty
Known Affiliations:
Bloc 8406
Brotherhood for Democracy
November 2018:
Nguyen Van Tuc's wife, Bui Thi Re, went to visit him at Prison 6, in Nghe An province, on November 12. His multiple diseases are getting worse, however, he remains in good spirits and he gave thanks to those who are concerned about him and his family. Tuc was recently transferred to the new prison, which is 300 km from their family's residence, without formal notice given to his wife.
Details - History of Activism.
He has been active in human rights, pro-democracy, and maritime sovereignty activism.
Nguyen Van Tuc's profile from Front Line Defenders
Arrest 1 - Arrested September, 2008. Sentenced to 4 years in prison. Released September 10, 2012.
September, 2008
October, 2009
4 years in prison
September, 2012
September 10, 2012
Arrest 2 - Arrested September 1, 2017. Sentenced to 13 years in prison. Expected Release is September 1, 2030.
September 1, 2017
April 10, 2018
13 years in prison
September 1, 2030
Defense Counsels: Ngo Anh Tuan
Profile last updated: 2019-02-08 03:47:06