Nguyen Van Tuc
Current Status: Sentenced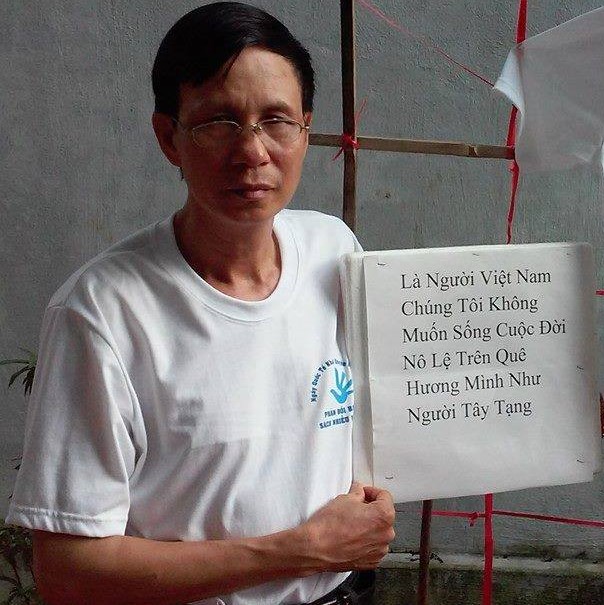 Other Names: Nguyễn Văn Túc
Date of Birth: May 28, 1964
Gender: M
Religion: Buddhist
Ethnicity: Kinh
Occupation:
Latest Prison: Thai Binh police Detention center, Thai Binh province
Areas of Activism:
Democracy
Human rights
Land rights
Maritime sovereignty
Known Affiliations:
Bloc 8406
Brotherhood for Democracy
Arrest History
Arrest 1
September, 2008
October, 2009
4 years in prison
September, 2012
September 10, 2012
Arrest 2
September 1, 2017
April 10, 2018
13 years in prison
September 1, 2030
Defense Counsels: Ngo Anh Tuan
Details
September 2018:
Bui Thi Re, wife of Nguyen Van Tuc, and their son, visited Tuc in Thai Binh detention center on September 20, 2018. They reported that Nguyen Van Tuc's health is in bad condition after the appellate trial on September 14. In particular, his cardiovascular disease is getting worse, with such a high heartbeat and blood pressure that he feels he could faint at any time. In addition, other diseases, such as a degenerative spine (or the vertebrae of the neck) and hemorrhoids, cause him even more pain. However, his spirit of courage remains. He even encouraged his son and fellow activists to turn pain into action.
He has been active in human rights, pro-democracy, and maritime sovereignty activism.
Nguyen Van Tuc, a former prisoner of conscience and a member of the Brotherhood for Democracy, was arrested under Article 79 of the 1999 Criminal Code on September 1, 2017. State-owned media has confirmed the arrest. He had previously served four years in prison under Article 88 for "propaganda against the state," from 2008 to 2012. At the time of the arrest, he was at least the sixth member of the Brotherhood for Democracy, a group co-founded by lawyer and political prisoner Nguyen Van Dai, to be arrested in recent weeks.
March 2018:
Authorities announced that Nguyen Van Tuc would face trial on April 10. A Brotherhood for Democracy member and former political prisoner, he had been detained for seven months without trial. He was be tried under Article 79 in Thai Binh province and had not been allowed to meet with his lawyer at the time of the announcement.
April 2018:
Nguyen Van Tuc was sentenced to 13 years in prison and three years of house arrest on April 10, 2018, in Thai Binh province.
September 2018:
Nguyen Van Tuc's appeal of his 13-year sentence was denied on September 14. Tuc's wife said that he saw the trial as an opportunity to voice his continued support for peaceful activism, and she noted that his health situation has been more stable recently.
June 2018:
Nguyen Van Tuc was in poor health in prison, with graying hair and difficulties eating and sleeping from his heart disease. His wife reported back on his condition after a June 21 visit, stating also that Tuc lacked sufficient air ventilation in his cell.
September 2017:
Several UN Rapporteurs released a letter expressing concern about the arrests and detentions of Nguyen Bac Truyen, Truong Minh Duc, Nguyen Trung Ton, Pham Van Troi, Nguyen Van Tuc, and Le Dinh Luong. They highlighted the issue that these arrests took place during a concerted crackdown on human rights activists and point out that Vietnam has international obligations to protect universal freedoms, such as the rights to freedom of expression and assembly.
April 2018:
Following the trial of human rights lawyer Nguyen Van Dai and five other activists, in which they received sentences ranging from 7-15 years in prison, and the trial of Nguyen Van Tuc mere days later, a group of UN experts released a statement questioning the Vietnamese government's motives for jailing the activists, asking for clarifications regarding their detentions and trial, and urging the government to uphold international obligations to protect human rights and release political prisoners. "We are deeply concerned at the way these peaceful campaigners have been treated and in particular over the use of Article 79 of the 1999 penal code of Viet Nam to charge and convict dissenting voices, mainly human rights defenders, especially as Article 79 carries the possibility of the death sentence or life imprisonment," they said.
September 2018:
Human Rights Watch called for Tuc's release ahead of his appeal trial.
Vietnam Arrests Another Member of Online Democracy Group, Radio Free Asia, September 1, 2018
Vietnam activist sentenced to 13 years on subversion charges, The Washington Post, April 10, 2018
Vietnamese Political Prisoner Nguyen Van Tuc in Declining Health in Jail, Radio Free Asia, June 21, 2018
Vietnamese Court Upholds Democracy Advocate's 13-Year Sentence, Radio Free Asia, September 14, 2018
Nguyen Van Tuc's profile from Front Line Defenders
Profile last updated: 2018-09-24 12:39:18