Tran Thi Nga
Current Status: Sentenced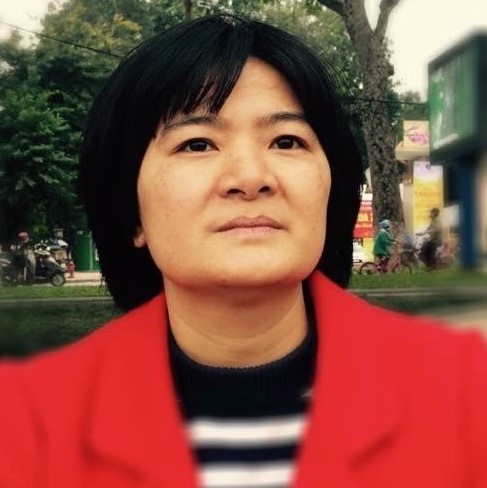 Other Names: Thuy Nga, Trần Thị Nga
Date of Birth: April 28, 1977
Gender: F
Religion:
Ethnicity: Kinh
Occupation: Migrant laborer
Latest Prison: Ha Nam Police Detention Center, Ha Nam province
Areas of Activism:
Anti-corruption
Environment
Human rights
Labor rights
Maritime sovereignty
Police Brutality
Known Affiliations:
Bau Bi Tuong Than
Vietnamese Women for Human Rights
Arrest History
January 21, 2017
July 25, 2017
9 years in prison
January, 2026
Defense Counsels: Ha Huy Son
Details
December 2017:
Nga was finally able to receive a family visit in prison, however she was separated from her children by a thick glass screen. Prior to this, prison authorities had been stating that she needed to gain Supreme Court approval for a visit. Her health is at risk, as she suffers from complications related to a 2014 assault. There is a report that she has been in solitary confinement. Her appeal of her nine-year sentence was denied on December 22, 2017.
Nga is from Ha Nam province in northern Vietnam and worked as a domestic laborer while a migrant in Taiwan. She suffered a traffic accident in 2005 that led to much time spent in the hospital, as well as years of recovery; but it also opened her eyes to the injustices facing migrant laborers and the unsavory business practices used to control workers. She returned to Vietnam about ten years ago and began her activist campaigning, at least partly inspired by the labor abuses she witnessed while a migrant laborer.
Following her return to Vietnam, Nga became an advocate for migrant laborer rights. She also became involved in land rights activism to protest land grabs by authorities in her community. She is also a supporter of multi-party democracy and women's rights. She has been beaten at least twice for her activism, once by pro-government thugs in May 2014, who broke her arm and leg, and once by police, who dragged her from a bus, in August 2015.
Latest arrest:
Nga, 40, was arrested on January 21, 2017 in Ha Nam at her home for her online videos and writings deemed as "propaganda against the state." In the days leading up to the arrest, authorities had been ramping up their harassment of the family. Nga was held in incommunicado pre-trial detention in Ha Nam until her trial in July 2017. Her trial was one-day only, and her family and supporters were prohibited from entering the courtroom. Nga was sentenced to nine years in prison and five years of house arrest.
September 2017:
Nga has been unable to receive a family visit in prison, with prison authorities stating that she needs to gain Supreme Court approval for a visit.
November 2017:
The UN Working Group on Arbitrary Detention released an
opinion
deeming the arrest and detention of Tran Thi Nga as arbitrary. The opinion called for swift remedies of the alleged violations of international law in her case. The opinion condemned the harassment of Tran Thi Nga's young children.
December 2017:
Authorities announced that Nga's appeal trial will be held on December 22 by the High People's Court of Hanoi at the headquarters of the People's Court of Hanam province. Her appeal of her sentence was denied.
Prior to arrest: Healthy, but underwent lengthy recovery from traffic accident
September 2017:
Nga has suffered complications in prison from a May 2014 injury sustained from being assaulted by thugs who targeted her for her activism. She suffers from knee pain as a result of the injury.
Nga was in positive spirits before her trial in July 2017 but has only been able to see her children once in her entire time in custody (December 2017).
December 2017:
There is a report that Nga has been in solitary confinement.
Contact us if you can assist.
February 2017:
Amnesty International issued an Urgent Action, calling on Vietnam to release Nga and two other human rights defenders, Nguyen Van Oai and Nguyen Van Hoa, unconditionally and immediately.
July 2017:
Amnesty International Canada issued an Urgent Action for Tran Thi Nga (see "Resources" section for the PDF).
October 2017:
Nga was one of the focus cases of the VOICE UPR campaign to hold Vietnam accountable to its human rights obligations.
November 2017:
Seventeen nongovernmental organizations released a letter ahead of the APEC Summit, calling on world leaders to raise the issue of human rights in host country Vietnam and press for the release of prisoners of conscience. The letter specifically raised the cases of female bloggers Tran Thi Nga and Nguyen Ngoc Nhu Quynh, as well as Catholic activist Nguyen Van Oai; all three were sentenced to multiple years in prison in 2017. A group of Western and Vietnamese scholars and experts on Vietnam also issued a joint statement condemning the imprisonment o Tran Thi Nga and Nguyen Ngoc Nhu Quynh. The statement's signatories include scholars from leading universities in Australia, Canada, France, The Netherlands, New Zealand, Singapore, the United Kingdom, and the United States. The signatories focused on the two imprisoned Vietnamese women because of "their lengthy sentences," their modest "offenses," and the fact that their young children "desperately need them at home."
December 2017:
A US Embassy spokesperson called for Tran Thi Nga's release after her appeal was denied. Human Rights Watch had also issued a statement supporting Nga ahead of the trial.
The 88 Project's archives.
Defend the Defenders's archives.
Front Line Defender's profile.
Vietnam is imprisoning female bloggers over their Facebook posts, Quartz, July 26, 2017
Viet Nam: Three Human Rights Defenders Held Incommunicado, Amnesty International, February 15, 2017
Vietnam: Female activist sentenced to nine years in prison, Amnesty International Canada, July 31, 2017 (PDF)
Luật Khoa, Hiểu về Thúy Nga trong 5 phút
Profile last updated: 2018-01-13 20:33:14