Tran Thi Nga
Current Status: Sentenced to prison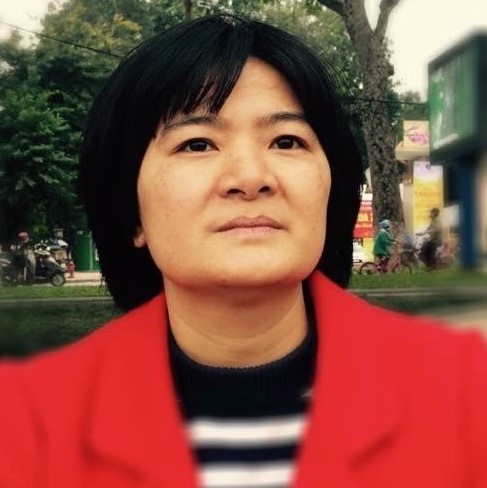 Other Names: Thuy Nga, Trần Thị Nga
Date of Birth: April 28, 1977
Gender: F
Ethnicity: Kinh
Occupation: Migrant laborer
Current Prison: Gia Trung prison, Gia Lai province
Areas of Activism:
Anti-corruption
Environment
Human rights
Labor rights
Maritime sovereignty
Police Brutality
Known Affiliations:
Bau Bi Tuong Than
Vietnamese Women for Human Rights
November 2018:
On November 17, Tran Thi Nga's husband and her two children were able to meet with Nga at Gia Trung Detention Center, Gia Lai Province. Nga was in good health and spirits but thinner. Nga had become a vegetarian and told her husband to limit visits in order to spend the money on other items.
Details - Background, History of Activism, Family Situation, Support the Family.
Nga is from Ha Nam province in northern Vietnam and worked as a domestic laborer while a migrant in Taiwan. She suffered a traffic accident in 2005 that led to much time spent in the hospital, as well as years of recovery; but it also opened her eyes to the injustices facing migrant laborers and the unsavory business practices used to control workers. She returned to Vietnam about ten years ago and began her activist campaigning, at least partly inspired by the labor abuses she witnessed while a migrant laborer.
Read about her journey from being a migrant worker in Taiwan to a human rights defender back in Vietnam from The Vietnamese, here. "Like many other people around her, she never heard of things like human rights. Like them, she was too busy finding means to feed herself and her family. But less than two decades later, she became a person who not only knows about human rights but also makes it her life mission to defend them."
Following her return to Vietnam, Nga became an advocate for migrant laborer rights. She also became involved in land rights activism to protest land grabs by authorities in her community. She is also a supporter of multi-party democracy and women's rights. She has been beaten at least twice for her activism, once by pro-government thugs in May 2014, who broke her arm and leg, and once by police, who dragged her from a bus, in August 2015.
Contact us if you can assist.
The 88 Project's archives.
Defend the Defenders's archives.
Front Line Defender's profile.
Vietnam is imprisoning female bloggers over their Facebook posts, Quartz, July 26, 2017
Viet Nam: Three Human Rights Defenders Held Incommunicado, Amnesty International, February 15, 2017
Vietnam: Female activist sentenced to nine years in prison, Amnesty International Canada, July 31, 2017 (PDF)
Luật Khoa, Hiểu về Thúy Nga trong 5 phút
Arrest 1 - Arrested January 21, 2017. Sentenced to 9 years in prison. Expected Release is January, 2026.
January 21, 2017
July 25, 2017
9 years in prison
January, 2026
Defense Counsels: Ha Huy Son
Profile last updated: 2018-12-10 04:03:42