Thich Quang Do
Current Status: House arrest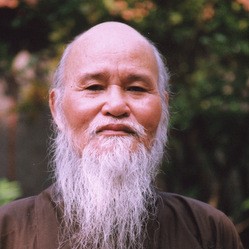 Other Names: Thích Quảng Độ
Date of Birth: 1928
Gender: M
Religion: Buddhist
Ethnicity: Kinh
Occupation:
Latest Prison:
Areas of Activism:
Democracy
Human rights
Religious freedom
Known Affiliations:
Unified Buddhist Church of Vietnam
Details
Venerable Thích Quảng Độ is the Patriarch of the banned Unified Buddhist Church of Viet Nam (UBCV).
He is a leading advocate of religious freedom, human rights and democracy. In his various capacities within the UBCV leadership, he has steadfastly refused to join the government-created Buddhist Church. He has been alternatively imprisoned, internally exiled, or under house arrest since 1977. He was awarded the Thorolf Rafto Memorial Prize and other prestigious human rights prizes.
He has been confined to the Thanh Minh Zen monastery in Hồ Chí Minh City since October 2003, when security officials told him that he had been placed in administrative detention for an indefinite period.
July 2012:
Three UN Special Rapporteurs sent a letter to Vietnamese authorities asking for information about alleged retaliation against members of the Unified Buddhist Church of Vietnam, including Thich Quang Do, after they engaged in peaceful protests for maritime sovereignty. They asked for "the legal basis of the aforementioned restrictions on freedoms of peaceful assembly, opinion and expression and association" and for explanation as to "how these measures are compatible with international human rights norms and standards."
March 2018:
The US Commission on International Religious Freedom (USCIRF) featured Thich Quang Do on their
website
. According to the USCIRF page: "Vietnamese authorities have repeatedly targeted, harassed, and detained Thich Quang Do both for practicing his faith and for his tireless advocacy for religious freedom and related human rights. For example, in 2001, he launched a plan called 'Appeal for Democracy in Vietnam,' which was supported by more than 300,000 Vietnamese from different faith backgrounds, as well as international stakeholders. As a result, the government placed him under administrative detention without trial at Thanh Minh Zen Monastery and prevented him from receiving medical treatment despite suffering from diabetes."
The US Commission on International Religious Freedom released its 2018 Annual Report. It lists Vietnam as a Tier 1 County of Particular Concern, a designation it has had for the past 16 years. The report's
appendix
on Religious Prisoners of Conscience profiles the case of Venerable Thich Quang Do.
Profile last updated: 2018-06-03 23:18:22